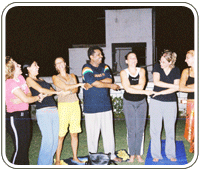 Hasyayoga FOR YOUNGESTERS ------Jiten Kohi

Day by day the study pressure is increasing on children due to increasing competition and careerism. No doubt a healthy competition is necessary for growth and development but it seems that today competition became a race. One feels bad if someone overtakes him, it brings a sense of shame and depression and negative feelings of inferiority and jealousy. Children can't celebrate their small achievements and this leads to dissatisfaction and frustration, which in turn leads to drug addiction, alcoholism, gambling, violence and corruption.

This is all suicidal. Even many educationalists recently proposed to wave off board exams & recommending changes in evaluation pattern to reduce undue stress/burden from the mind of children. This increasing stress badly effects on their body as well as on personally & natural growth also.

Children are doing sports activities, body building exercises like gyms, swimming, aerobics etc. to shape their body & keep healthy. But what about our mind, which is the controlling center of entire body system? It is overloaded with stress/tension. Stress can only be reduced only by Good sleep – It is difficult to sleep peacefully due to stress on mind however physical work in a day can help little bit. Meditation – A long continuous practice can make you perfect. But it is not easy, practical and advisable for children. Laughter Therapy – Easy for all.