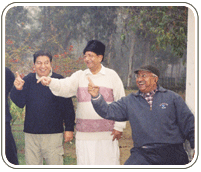 HOW TO LAUGH

Jokes can not make you laugh everyday. For one, you need a fresh joke everyday & for the other, one should be a humorous too. But the million-dollar question is how to laugh or who will make you laugh? LAUGHTER CLUB, Yes you can regenerate, recharges you with laughing by joining the Laughter Sessions. You can not think anything while laughing. Because you can do it only one thing at a time either laughs or thinks. After laughing the muscles participate in laughing get inactive and others get activate. When you repeat this process again & again your mind muscles get relaxed thus break the stress. Laughter is a stress breaker.

BASIC PRINCIPAL OF LAUGHING

1. Laugh for no reason: Children are laughing for no reason, why? Because they do not have any inhibition. We can also laugh for no reason if we tried a little bit is it difficult? Let's make our heart & soul as sweet & soft as child. And we have to create a group of such like-minded people. We can laugh in a Laughter Club on a mobile phone bill, which gives us so much tension.

2. Fake it Fake it till make it : No, our body does not know the difference between a false or real laugh. Laugh is laugh. Neuro Linguistic Program theory says you laugh spontaneously on a joke or you do laughter in a form of an exercise of laughter, it leads to the same set of physiological changes occur your body. There are many studies that positive chemicals generates in our body even by an act of laugh, simultaneously many a times people fell sick after acting sadness. Laugh & laugh again until it converts in a real natural laugh & this is so easy.

3. Community Laugh : When you cry you will be alone, but when you laugh everybody laugh with you. When you laugh in a group it spreading dynamically. Laugh is highly communicable.

SCIENCE OF LAUGH

| | | |
| --- | --- | --- |
| » | | | Laughter is a stress breaker. |
| » | | | Laughter increases oxygen intec in body. |
| » | | | Laughter is a painkiller. |
| » | | | Laughter is a reliever. |
| » | | | Laughter is tension reducer. |
| » | | | Laugh increases positive attitude & thinking. |
| » | | | Laughter develops once personality, level of confidence and feeling of goodness. |
| » | | | Laughter reduces destructive attitude, feeling & negative thought. |
| » | | | Laughter increase efficiency of respiratory tracts |
| » | | | Laughter goods to Control Blood circulation |
| » | | | Laughter increase body resistance |
| » | | | Laughter helps in curing. |
| » | | | Laughter reduce medicine |
| » | | | Laughter increase capacity, ability and self-confidence |
| » | | | Laughter is a mind muscle exercise |
Hasyayoga SESSION

TIME: Hasyayoga session basically a 15 – 25 minutes Hasyayoga exercises for various parts of our body as well as mind and other internal organs. Preferable in morning.
PERIOD: Generally we start with thrice in a week. Gradually we develop a laughter teacher among the participants, who continue the same on other days if desires.
IS IT MENDATORY: No. It is not mandatory to participate in laughter session daily for anyone. As well as it also not mandatory to continue such session. These are only exercises if one feel its good then continue. And no doubt Laugh is good to continue.

WHO CAN PARTICIPATE

Any one. From any age group. Laugh is for all and there is no discrimination for any caste, gender, religion, age, community etc.

START LAUGHTER CLUB

Laughter Club is a non-commercial, non-political, non-religious social society. Dr. Madan Kataria started this laughter movement on 13th march, 1995 by establishing 1st Laughter Club in Mumbai. Today Laughter Club is having more than 5000 branches all over the world. Laughter Club organizes morning laughter session in different parks of Delhi daily. It is basically a group of health conscious people who love to live happily & full heatedly. In these classes we have some light exercises for body & mind in a laughing way. Apart from the exercises for different parts of the body we simultaneously get the benefits of laughter as well. Secondly when you exercise in a laughing way the exercises gets easy for all ages of people. In these morning session's people participate from all age groups such as 8 yrs to 80 yrs children, youngsters, seniors, ladies etc.

There is no formal fee to join laughter classes. Various Laughing exercises such as Deep breathing laugh, Boat roaring laugh for neck & shoulder, Silent laugh, Monkey laugh, Holi laugh, Belly laugh, Chinese & Indian laugh, Lion laugh, appreciation laugh, Chilly soup laugh, Meter laugh, Free dance & laugh, Cell phone Laugh, Lala Laugh, Patiala laugh, Balloon laugh, Milk shake laugh, Ghost laugh, Double shake hand laugh, Namaste laugh, Argument laughter, forgiveness laugh, Gradient laugh, Swimming laugh etc. are done by experienced persons.

These exercises include Yoga, Aerobics, and Meditation etc. Hence after participating in a laughter session you need not go for any further exercises.

CHEAP AND BEST

So, what do you think? Would you like to spend lots of money on depression and other diseases? Go to costly Gyms Or other Health Clubs? Or join this invaluable therapy based on Hasyayoga. Come once at least. You will not only find health exercises but a healthy social atmosphere too. A hasya family is always with you.

LAUGHTER MASTER JITEN KOHI

Laughter Master Jiten Kohi is the main convenor of Laughter Club of Delhi (NCR), having rich experience of conducting Laughter session for various group of people. He is continuously opening new Laughter Kendra every month in different parts of the city. He is managing these laughter classes running in various parks with the help of dedicated laughter instructor. He had also taken a campaign to teach laughter exercises among school children. He had successfully conducted Laughter session in more then 100 schools of Delhi during assembly time where hundreds of students, teachers participate in these sessions. He had also conducted Laughter sessions for MBA-LLB scholars at Kurukshetra University, group of Social activists, Social organisation, Citizen Clubs, welfare Societies meets, Senior citizen Societies, business houses, Foreigners etc. He is associated with International Laughter Club. A branch of the Club at Surat had conducted Laughter sessions for prisoners too.

PROPOSAL FOR LAUGHTER SESSION

We propose to conduct Laughter Session in the guidance & leadership of Laughter Master Jiten Kohi for prisoners/ of District Jails. Because we believe that criminals are not born the time & situation made them so and a good conduct/opportunity can convert Daku Angulimal into Mahershi Balmiki. Laughter can change the attitude of life.